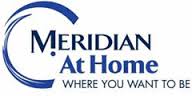 Every moment of life is precious. To honor and respect those moments, especially at life's final stages, Meridian Hospice is committed to helping clients live their remaining days in the greatest possible comfort and dignity.
We recognize that death is not an event but a process, and we are dedicated in assisting our clients and their family during this natural process.
Hospice provides one-on-one personalized care delivered by a qualified specially trained team. The Meridian Hospice Team includes a physician medical director, certified nurses trained in hospice and palliative care, licensed clinical social workers, chaplains, hospice aides and trained volunteers.